It's now the beginning of August and through this most unusual, some would say dystopian time, the seven of us farming at Indian Ridge Farm have continued to mostly shelter in place since we started the farm season in March. We're doing this to protect ourselves, as we don't want to introduce the Coronavirus to the farm thereby affecting our ability to produce food for you, the consumer. Especially at this point in the season. We're in full production mode: eggs, broiler chickens, turkeys, pate, bone broth, and a garden full of nutrient-dense veggies.
A farm is certainly not a bad place to be sheltered. We're eating amazingly nutritious and delicious food, we're physically and mentally challenged by our endeavors on a daily basis, we get to intimately interact with nature, we're working outside everyday, we're watching (and eating) the fruits of our labors, we're feeding many, many very satisfied customers, we have enough room around us to recreate, and there is open space galore — mountains, deserts, canyons, roadways, trails — to explore without making contact with other humans. Of course, the biggest struggle for all of us has been the lack of social contact with friends and family. Humans are social creatures. We need to be able to interact and commune with each other. We need hugs. We need to be touched. We need stimulating conversation. We need the arts and gatherings of celebration at concerts and festivals with our like-minded sisters and brothers. We need to share meals together with families and friends. This is all sorely lacking at this time. And it's tough.
Fortunately for us though, our daily activities here at the farm are mostly "normal" and haven't been entirely uprooted by the pandemic. Or at least, as normal as farming is year-in and year-out. We're adaptable, we're always confronting change. That's the essence of farming. We look for rhythms by which to live, for rituals by which to celebrate, for gratitude for all the blessings that surround us. After 20 years working the land, we have our systems down. We know our routines. We know what critical systems of the farm are needed to produce food. Pasturing livestock requires constant movement and activity. There are many moving parts, most of them interrelated in complex webs of care and reciprocity.
But we too experience the anxiety that has gripped many of us in southwestern Colorado. We're farming under drought conditions, again, although the heavy monsoonal surge of a week ago certainly has helped on that front. Our springs showed renewed signs of life, the grasses have come back strong, and our morale has certainly improved. There's hope that more rain in the form of monsoonal moisture can help erase the drought that is ravaging the Four Corners — and most of the southwest — with a vengeance.
We're also anxious that the Coronavirus is not showing any signs of slowing down. Over 150,000 Americans are now dead, nearly 5,000,000 infected. It seems that a compassionate approach, one where all Americans are focused not on the politics of the pandemic but instead on the health crisis that it presents, is what is missing. Since when did wearing a mask become a political statement? This is bizarre. Wearing a mask, practicing social distancing, limiting exposure to essential trips to town, reducing large, indoor sized groups of people, these are the elements of a successful containment practice. It wouldn't take long for containment to occur if we just followed these simple practices. At least that's what the experts tell us. And we believe the experts. Who else can you trust? Can we all just put our differences aside and come together for the common good? Is that too much to ask? Otherwise, what's the alternative? Herd immunity? Waiting for what is surely an elusive vaccine? How many lives are we willing to sacrifice?
And, no. Rural communities are not, nor will they be, spared the dangerous consequences of the virus. This is a virus that cannot be escaped. Here in the this beautiful part of the country, we're seeing visitors from Texas, California, Arizona, Oklahoma, Florida. All hot spots. Second homeowners are constantly coming in and out. As a result, Covid-19 cases are rising, albeit slowly but steadily. In these remote parts of the country, where health care facilities are separated by a distance of 60 miles, it doesn't take much to strain a very limited health care system.
A friend of ours so aptly wrote a description of what life has been like these past few months. "Since the beginning of March," he writes, "the pendulum swing of emotions has been stark and drastic. The pandemic, economic insecurity, the historic reckoning of systemic racism and white supremacy, fear, anger, anxiety, etc; I've been ok at times and very not okay."
We hope you've been okay. As far as we can tell, strengthening one's immune system is probably the best way to protect oneself from the ill-effects of the virus. That is, our diets should consist of fresh foods organically grown, animal fats, bone broths, raw milk and yogurt, and fermented foods. Our bodies require lots of sunshine to take in natural amounts of Vitamin D. Adequate sleep and rest are important, as is a regular dose of exercise. As farmers, we are focused on growing the most nutrient-dense food we possibly can. That is our commitment to our customers. Together, we can all stay healthy.
For now, let's take a break from the heaviness. We all need a break. Please sit back and enjoy the following images that capture a bit of the life on the farm the past couple months.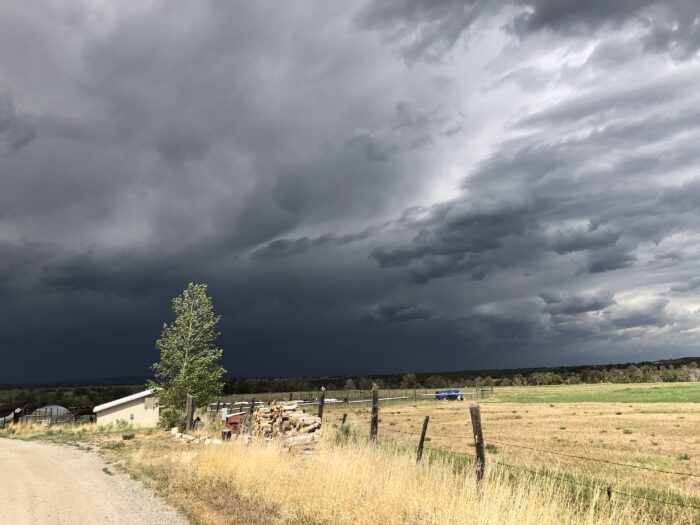 Darkness on the edge of town. This recent cloudburst produced over one inch of rain in about 30 minutes time, causing some minor flooding around the farm. Living on a high mesa surrounded by tall mountains, we're blessed to be able to see weather events form around us.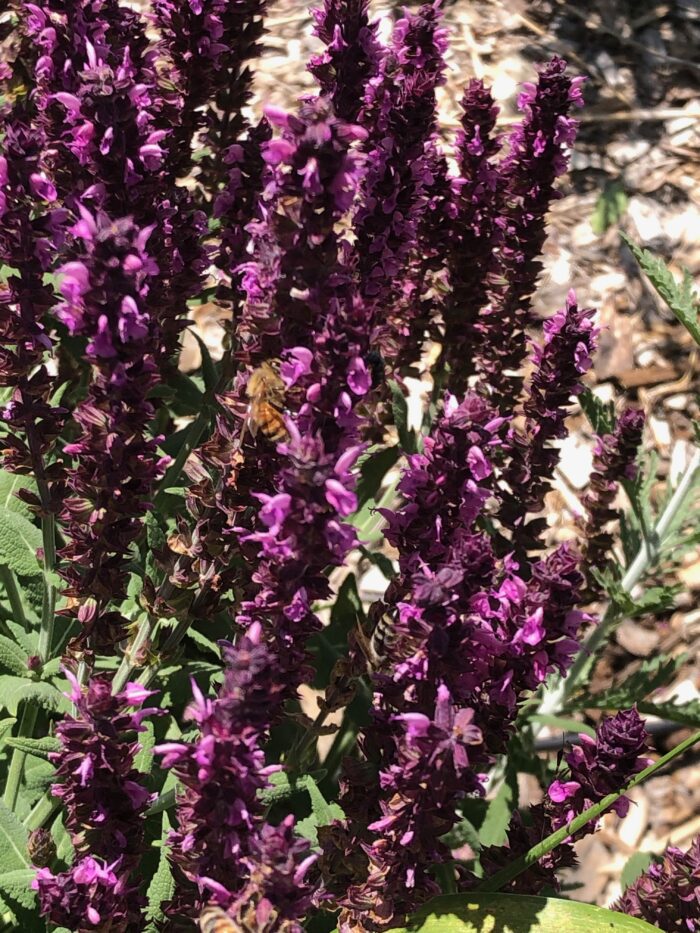 The discerning eye can see the bee in the center of this image (hint: there's more of 'em, too)! As part of our regenerative agriculture impulse here at the farm, we try to create healthy habitats to enhance biodiversity.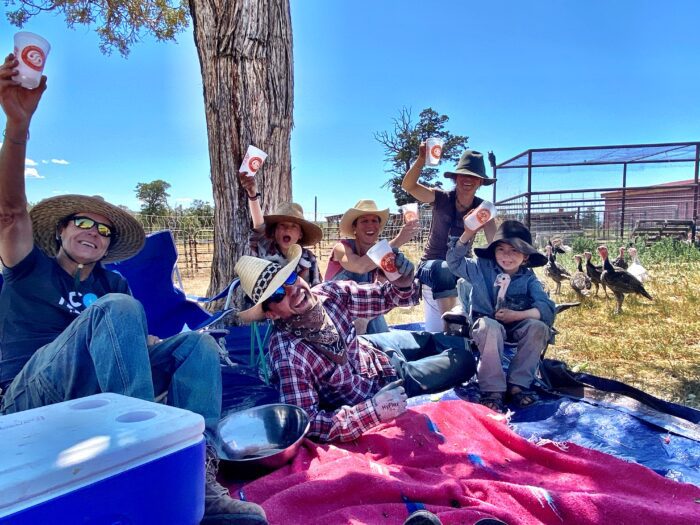 Telluride community radio station KOTO held a virtual Bluegrass Festival this past june, and this was our entry for the photo contest. Here (l-r), Tony, Dave, Elias, DeAnne, Anne, and Jonah raise a glass to celebrate Bluegrass Festivals of years past, with some of our grass-fed turkeys wondering just what the heck the noise is all about. Barclay took this photo.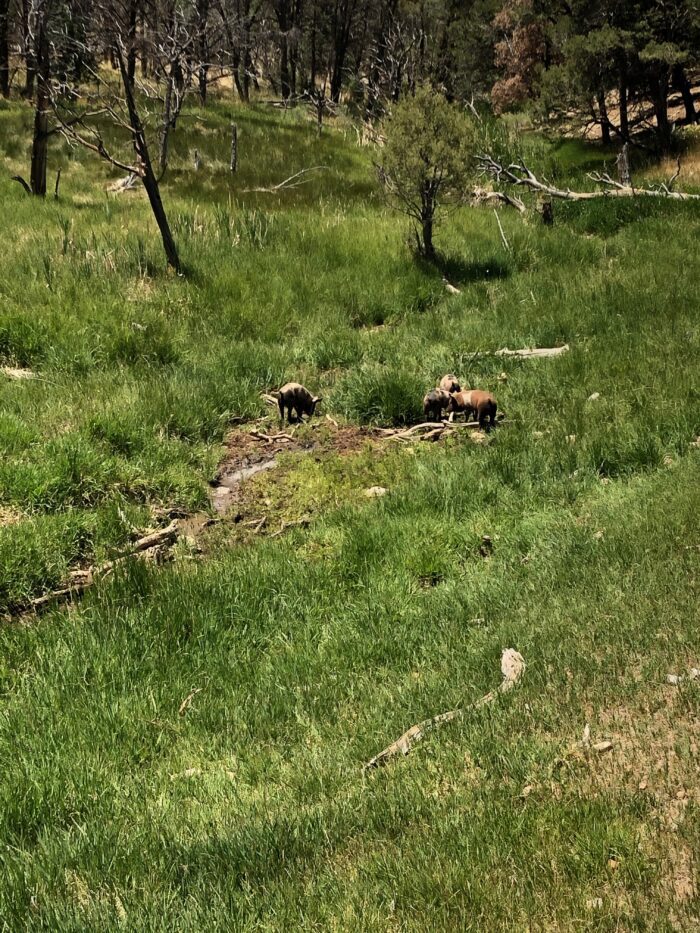 Our four pigs are certainly not bothered by a pandemic. Here they are in the morning, down at one of our springs, exploring the tall grasses and generally just being curious and goofy.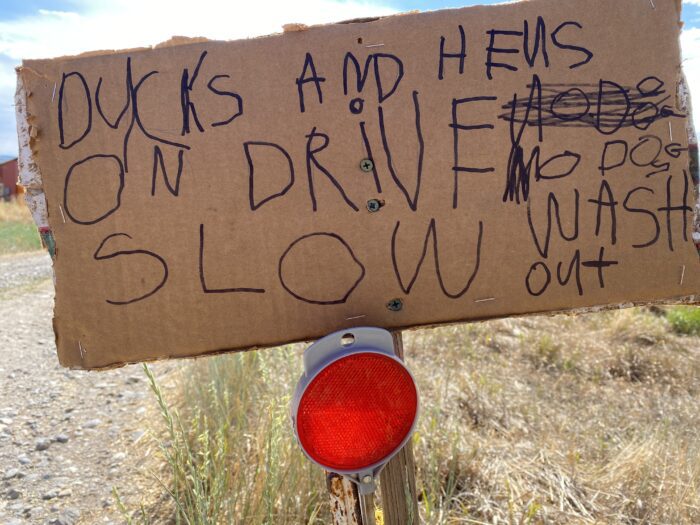 Well, what can you say? It's been a real joy to be living with two rambunctious young boys on the farm.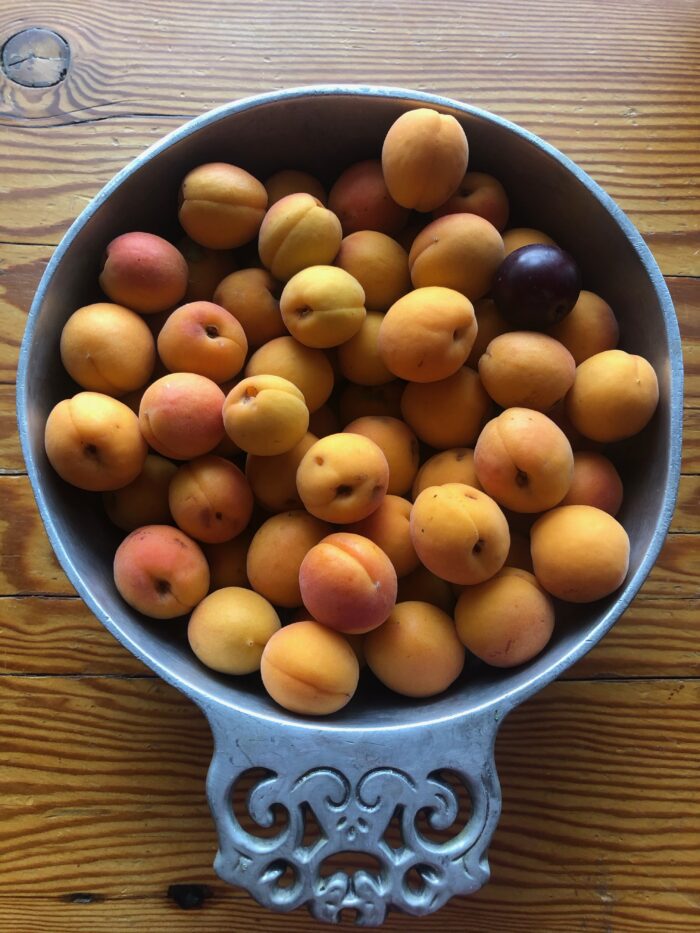 The mesa's plums and apricots were spared the serious early-season deep freeze that wiped out most of the Western Slope's peaches, plums, and nectarines.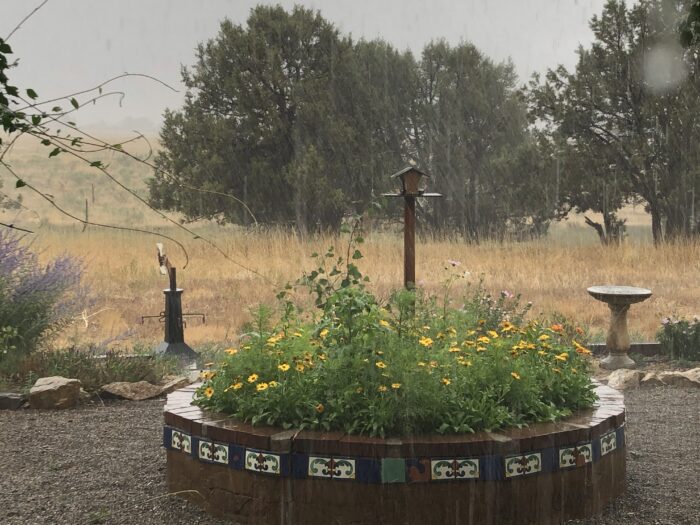 The monsoonal downpours came at a very opportune time. These surges of moisture — formally called the North American Monsoon — originate in the Gulf of California and make their way north to the Four Corners either through Arizona or New Mexico.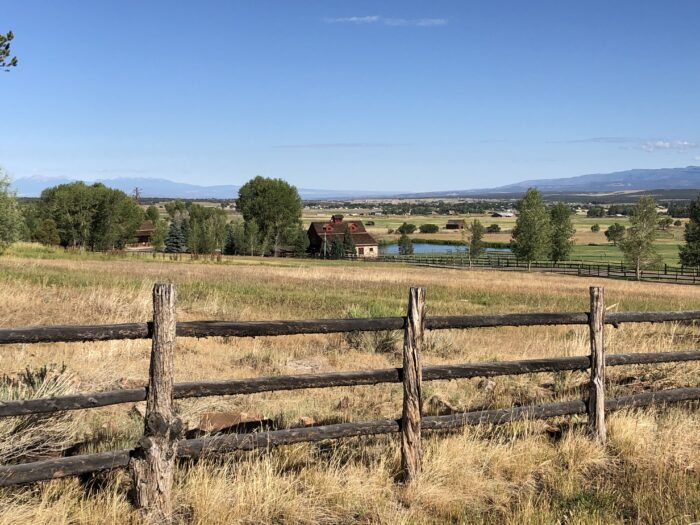 This is a lovely postcard quality scene (looking west-northwest) taken of the mesa from the bottom of Oak Hill on a recent bike ride. That's downtown Norwood hidden in the trees in the upper right, with the La Sal Mountains off to the west and the Uncompahgre Plateau to the north. We're all so grateful to be breathing clean air.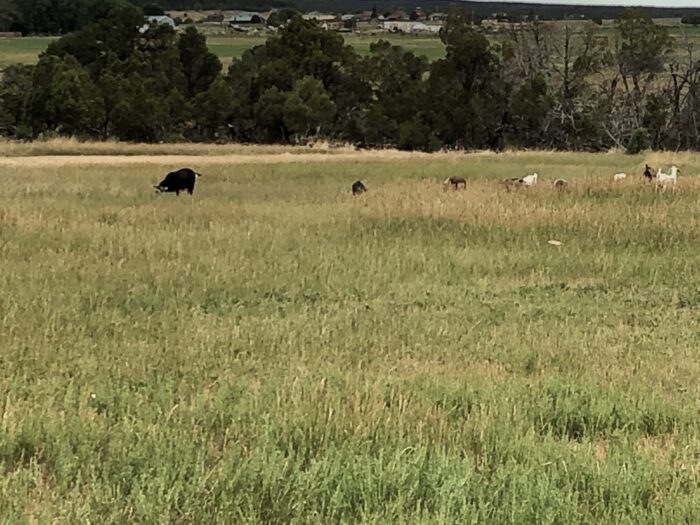 Our small herd of goats, some raised for their raw milk, some for their meat, enjoying the luscious green pasture that is their home.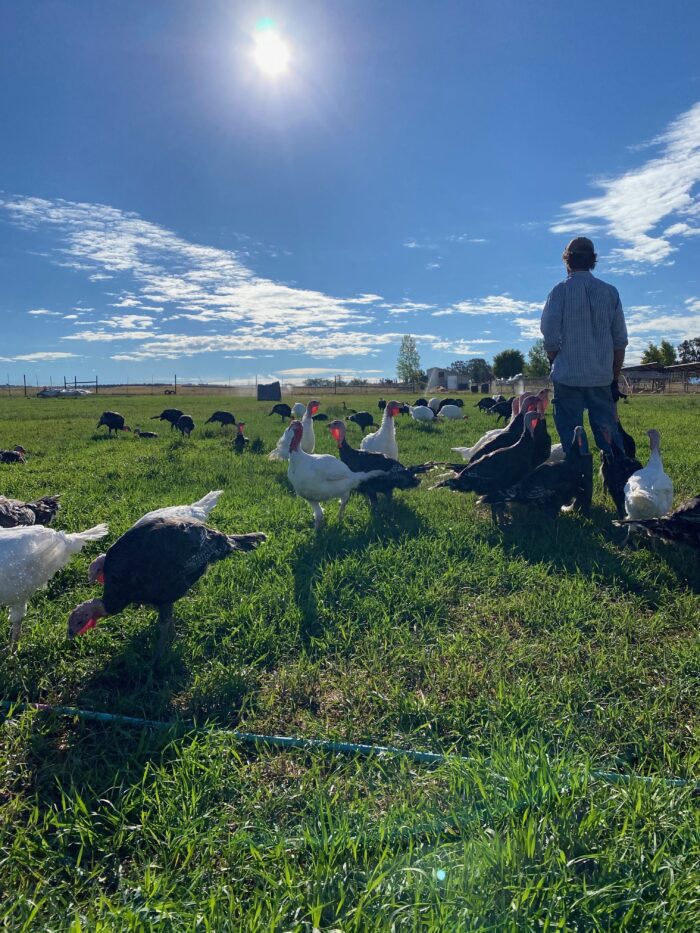 Here farmer Tony stands with the flock of grass-fed turkeys on a recent bucolic morning.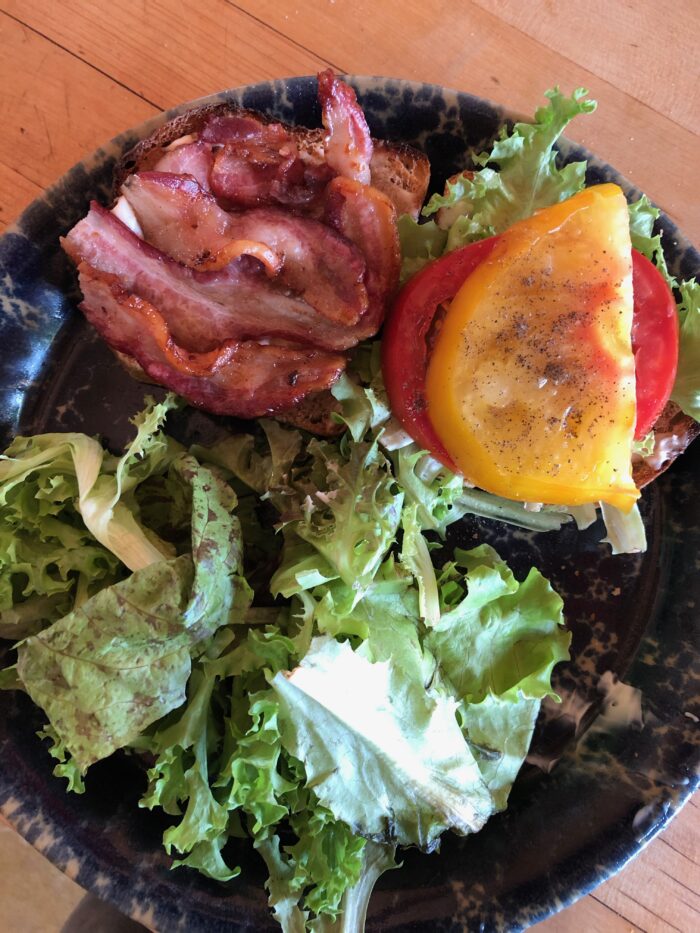 Summer just isn't summer unless you can enjoy a fresh BLT!
Let's face it: farmers have to eat too, and we're grateful to be surrounded by fresh foods and animal products year-round.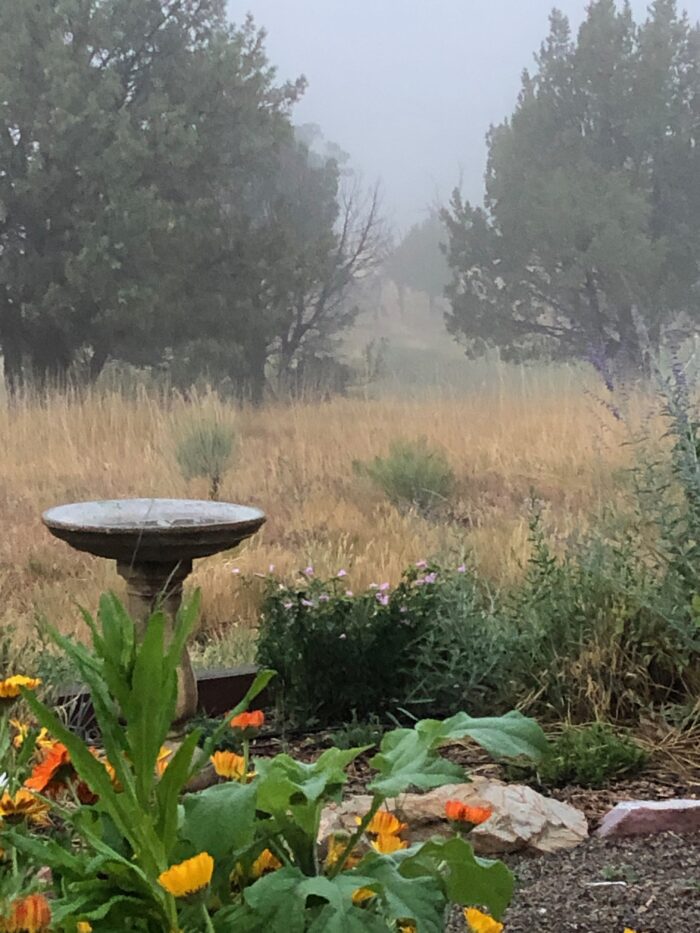 It's hard to capture just how hard it actually rains during the monsoonal downpours. We're blessed!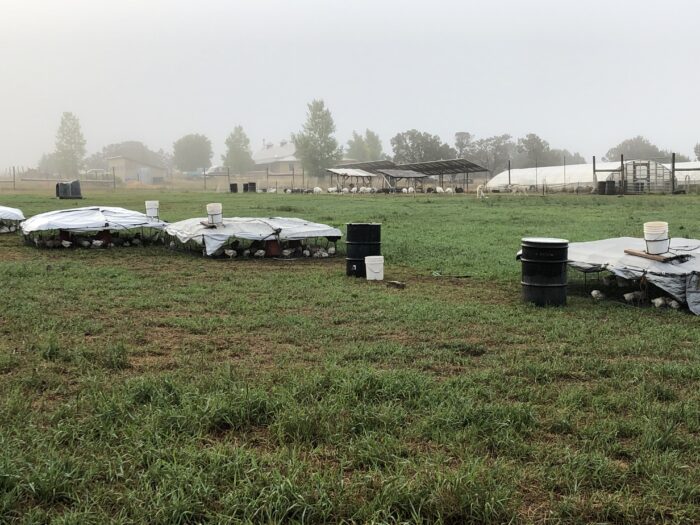 The recent rains quickly regenerated our intensively rotated pasture, where turkeys, broiler chickens, and layer hens are all raised in a multi-species menagerie, guarded by a pair of Pyrenees/Anatolian LGDs. Also seen in this photo is the farmhouse, 52 solar panels, and two hothouses. This was a particularly rare morning, feeling more like the wet northwest when a heavy fog filled in for several hours.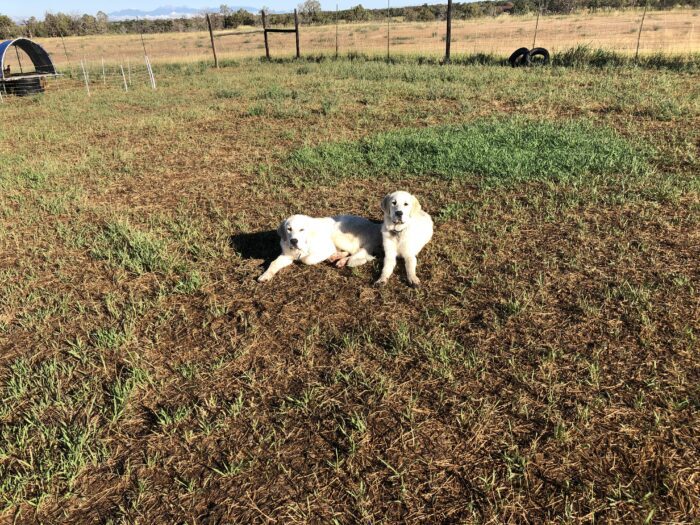 Our livestock guardian dogs, Lukin and Bee Girl, now only four months old but at a very trainable age. And did we say cute?
Stay healthy everyone. Do your part. Be safe. Take care of each other. Be kind. Be courteous. Be generous. Show gratitude. Vote.