As high-altitude growers, our short growing season starts in early April and ends in early October. Our frost-free dates are early June to early September. Snow in April, May, September, and October is not uncommon! While our methods are labor-intensive, we feel that's what it takes to grow only the healthiest, most nutritious food available.
For the fourth year in a row, the garden space has been leased out to Anne Lefevre. She is a fabulous gardener! Anne will be focusing her efforts this season (2020) on growing produce for the Norwood Fresh Food Hub. Anne lives on the farm with her two boys, Elias, age 8, and Jonah, age 5.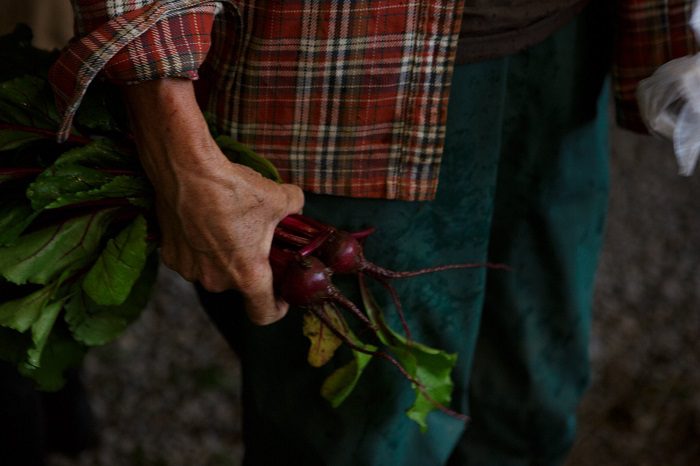 Raising healthy and organically-fed livestock remains an integral part of our farming practices at Indian Ridge Farm.
We will once again have several hogs available for sale here at the farm this season. Pigs are a part of our whole farm organism: they eat many of the scraps out of our organic vegetable garden and are out on pasture once they're old enough. Plus, these curious, cute, and intelligent animals are fun to have around! Our hogs' feed is supplemented with organic grains that are Colorado grown. We firmly believe that a calm, happy pig is a tasty, nutritious pig. You can purchase the meat by half or whole animal. It and many of our other products can be pre-ordered.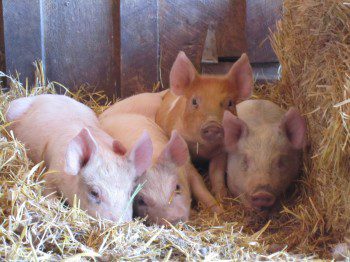 We raise goats mostly for their highly nutritious milk consumed here at the farm and not for sale to the public. The yogurt and chèvre are awesome too! We strongly believe in the health benefits of raw dairy milk. The goats' area also put to work weeding areas on the farm that is difficult to control otherwise. Their favorite diet is bindweed followed by thistle buds, two "weeds" that are sometimes called noxious or invasive.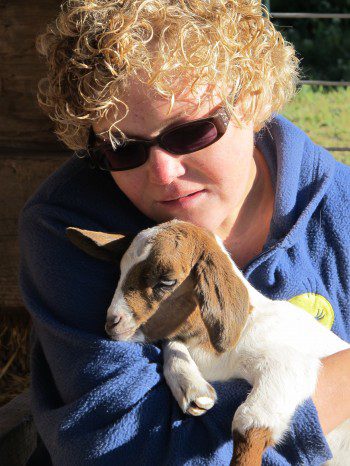 We rotate two beef cows on the same pasture as the turkeys and chickens to consume the grasses that are too tall for the birds. It's part of a holistic rotational system we've devised, based on Joel Salatin's Polyface Farm model. By incorporating larger livestock into our pasture rotations, the farm's regenerative agriculture goal is met.
Other grass-fed beef and lamb are available through the farm on behalf of ranching neighbors who raise them on Norwood's pastures and up in the high country above Telluride. All meats are raised without any medications, growth hormones, or antibiotics.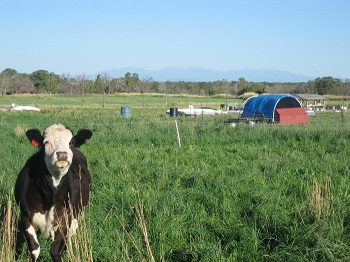 In the summer of 2014, we introduced several beehives to the farm with CSA member Laura Duncan's help. We're firmly committed to helping bee populations thrive so that humans may thrive. Did you know that 60% of the world's supply depends on bees and their ability to pollinate plants? We've all read of the colony collapse problem experienced by bees throughout the land. It's true: the US is losing its bee population. Beekeepers with knowledge about this decline attribute it mostly to chemicals in the form of pesticides. The bees seem to have found a happy home here at Indian Ridge Farm, surviving well through the winter season and thriving this spring. Someday soon, we may be able to provide our honey.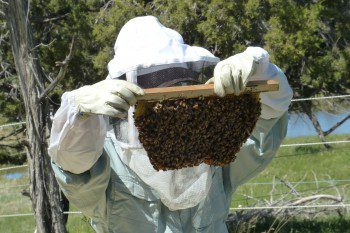 There are numerous ponds, waterways, and wetlands on the farm. Woodlands surround the pastures on two sides. Wildlife thrives in this environment, and aside from the many species of birds, raptors, and wild turkeys, we often see deer, elk, foxes, coyotes, and countless other mammals. Bees and other insects help pollinate the vegetables and flowers and add to the local ecosystem's overall health. We are always busy enhancing the habitat so that we may live jointly and in synch with nature.